Koshin Shinko is the belief that you are born with three worms (called sanshi) inside your body, and that these creatures' only purpose is to shorten your life so they can be free again.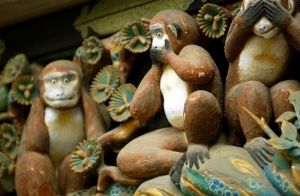 In this podcast I not only tell you more about those nasty parasites and how you can hinder them, I also talk about those three monkeys (See No Evil, Hear No Evil, Speak No Evil) and how they are here to help you out. Oh, and immortality. I also talk about how you can gain immortality.
I found the dates for 2017: Feb. 2/April 3rd/June 2nd/August 1st/September 30th/November 29th.

Credits
The intro/outro music of Uncanny Japan is a song by Christiaan Virant ("Yi Gui" from Ting Shuo). The whole album is just gorgeous, as it everything else by FM3.