Rated PG Version:
Rated G Version:

Here is it already April first and the cherry blossoms are blooming and spring is in the air. I think today is a good day to tell you a story I've been wanting to share for awhile now. Remember last episode when I talked about the tanuki? Well, keep all that in mind when you listen to today's episode. Things are going to get weird.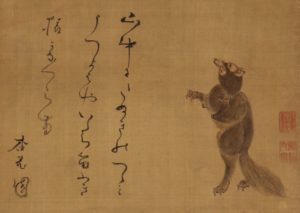 Credits
Researched, written, directed, & produced: Thersa Matsuura
Mixed, edited, & sound engineered: Rich Pav
Voice of Terrie and Richard: Terrie and Richard
Voice of tanuki buttons: Julyan Ray
Sniffles, snorts, and chomps of tanuki: Alan Smithee
Foley: Richard and Terrie
That one line about Caligula: Joe Robson
Intro and outro music by Julyan Ray Matsuura.
Atmospheres #9 – Outskirts Of Town by Brian Holtz Music
Link: https://filmmusic.io/song/7668-atmospheres-9-outskirts-of-town
License: https://filmmusic.io/standard-license
Mourning Background by MusicLFiles
Link: https://filmmusic.io/song/7660-mourning-background
License: https://filmmusic.io/standard-license
Freedom by Alexander Nakarada
Link: https://filmmusic.io/song/4881-freedom
License: https://filmmusic.io/standard-license
Divertimento K131 by Kevin MacLeod
Link: https://filmmusic.io/song/3663-divertimento-k131
License: https://filmmusic.io/standard-license
Peek-A-Boo by Brian Holtz Music
Link: https://filmmusic.io/song/7123-peek-a-boo
License: https://filmmusic.io/standard-license
The Expanse by Alexander Nakarada
Link: https://filmmusic.io/song/4846-the-expanse
License: https://filmmusic.io/standard-license
Dawn Of The Apocalypse by Rafael Krux
Link: https://filmmusic.io/song/5627-dawn-of-the-apocalypse-
License: https://filmmusic.io/standard-license
5 Am by Denis Sivtsev
Link: https://filmmusic.io/song/5959-5-am
License: https://filmmusic.io/standard-license